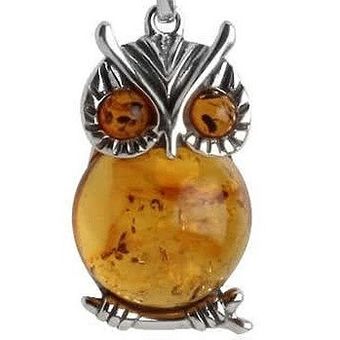 Sterling Silver Baltic Amber Owl Silver Pendant
Sterling silver owl pendant set with Baltic honey amber, this is the most adorable amber owl pendant waiting patiently for you to add him to your amber collection! Set with a large round piece of 15mm Baltic honey amber, 35mm length and supplied with 18 inch silver chain.
was £29.90
Sale Price from £22.34 to £26.34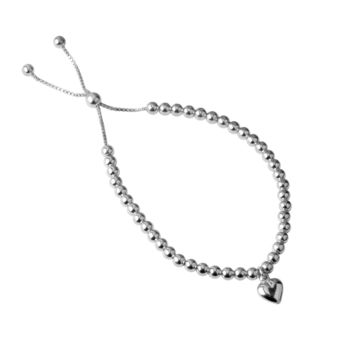 Sterling Silver Slider Bead Bracelet with Heart Charm
Sterling Silver Bead Bracelet with Heart Charm. Slider fastening, simply slip over the wrist and pull the bracelet to the length required, one size fits all. 4mm diameter beads with a little silver heart charm measuring 10mm.
was £24.40
Sale Price from £19.99 to £21.99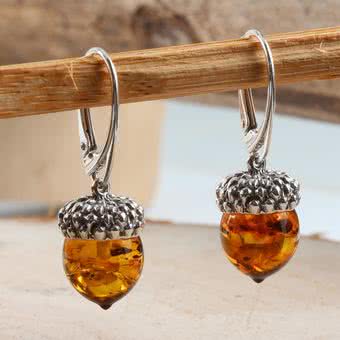 Baltic Amber Acorn Earrings Sterling Silver
Beautiful acorn amber earrings. These stunning drop earrings feature sterling silver set with gorgeous Baltic amber. Accurately designed and crafted, these will soon become your favourite earrings
was £39.90
Sale Price £34.92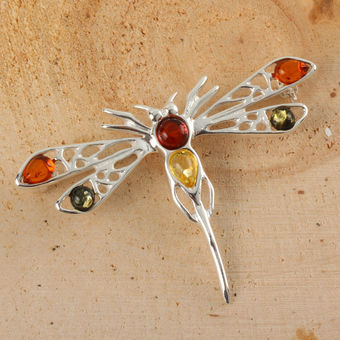 Large Baltic Amber Dragonfly Brooch
Large Baltic amber set dragonfly brooch, solid sterling silver, multicoloured amber featuring cognac, lemon, green and honey amber. This striking dragonfly brooch measures 53mm x 36mm and weighs 6.15 grams.
was £32.90
Sale Price £27.78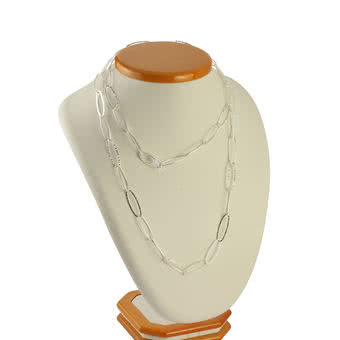 Textured Ovals Extra Long 40 inch Sterling Silver Necklace
Super long 40 inch (102cm) ovals necklace. This sterling silver chain features textured and plain oval links, it is fitted with a contemporary clasp. The chain can be worn as one long length or double around the neck to create numerous looks. The links measure 8.5mm wide and weighs 17.50 grams (over half an ounce).
was £44.90
Sale Price £41.88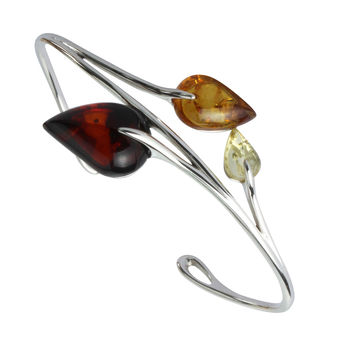 Triple Multicoloured Baltic Amber Leaf Sterling Silver Bangle
Beautiful sterling silver open bangle set with leaf shaped cherry, honey and lemon Baltic amber. This gorgeous bangle displays the vibrant amber colours so well. The differing sizes of amber leaves makes this design so attractive. The bangle can be easily adjusted to fit all wrist sizes
was £49.90
Sale Price £42.22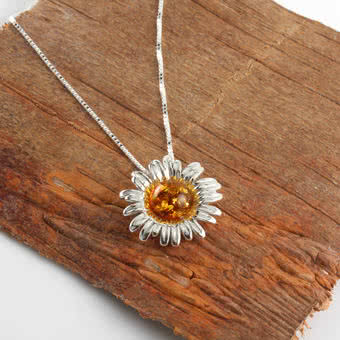 Sterling Silver Honey Baltic Amber Sunflower Pendant
Sterling silver sunflower pendant set with a large 10mm diamater piece of round Baltic honey amber. Nestled within the finely detailed petals the amber glows and reflects around the petals. The generous 21mm diameter pendant comes with a highly polished sterling silver box chain
was £24.90
Sale Price from £18.36 to £21.36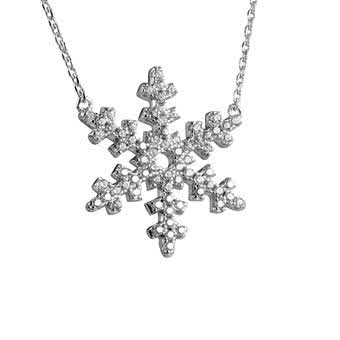 Large Snowflake Sterling Silver Necklace
Sparkly and shimmering snowflake necklace. This stunning rhodium plated sterling silver necklace is set with sparkling CZ's in a large snowflake. Makes a super Christmas present or nice little treat for yourself!
was £23.40
Sale Price £18.06
Out of stock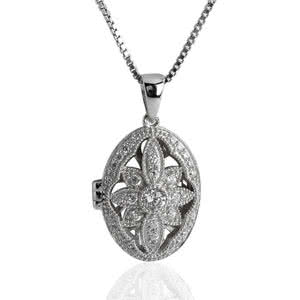 Victorian Design CZ Silver Oval Flower Locket
Victorian design set with sparkling cubic zirconia gems. Finished beautifully with a cut out design on the reverse and plated with rhodium for a tarnish free white gold look. The locket has a cut out design on reverse of locket, it measures 22m x 16mm.
was £32.90
Sale Price £28.88

Micro Pave Silver Heart Earrings
Simulated diamond micro pave set heart earrings. Micro pave is a style of stone setting which involves highly skilled gem setting usually only offered with high end platinum and 18ct gold jewellery. Each tiny stone is hand set and results in a beautiful glitter finish. 20mm drop, 13mm x 11.60mm.
was £34.90
Sale Price £27.44

Micro Pave Set Heart Pendant
Sterling silver heart pendant measuring 17mm x 15mm, stunning heart shaped pendant micro pave set with over 100 tiny sparkling Cubic Zirconia gems, finished with Rhodium to give a luxury white gold look.
was £32.90
Sale Price £28.44

Triple Strand Rose Gold Plated Singapore Sterling Silver Bracelet
Sterling silver 7.5 inch (19cm) diamond cut singapore triple strand bracelet. Plated with high quality 18ct rose gold. The rose gold plating is a soft pink tone rose gold.
was £17.40
Sale Price from £12.88 to £14.88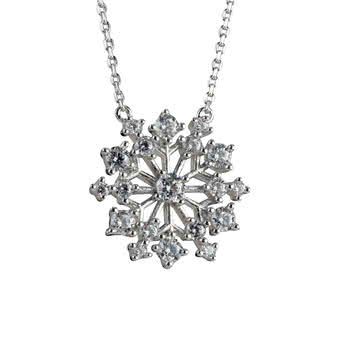 Christmas Snowflake Sterling Silver Necklace
Add a touch of sparkle this Christmas with these beautiful sparkling snowflake necklaces. The adjustable length and luxurious rhodium plated finish makes them perfect Christmas gifts
was £18.70
Sale Price £17.33

Triple Strand Rose Gold Plated Singapore Sterling Silver Necklace
Diamond cut sterling silver triple strand drop necklace plated with 18ct rose gold. The high quality rose gold plating is a beautiful soft pink tone. The shortest strand is 17 inches (43cm) and the longest strand is 21 inches (54cm)
was £29.90
Sale Price £23.44