Out of stock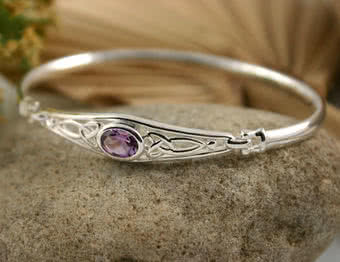 Amethyst Celtic Silver Bangle
Sterling silver hallmarked celtic bangle set with a genuine Amethyst
£47.90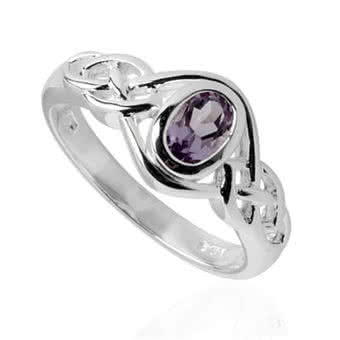 Genuine Amethyst Celtic Ring
Sterling Silver Celtic design ring set with a genuine Amethyst gemstone measuring 6mm x 4mm. Celtic design shoulders incorporating the classic Triquetra shape of celtic design metal work.
from £18.40 to £21.40
Amethyst Celtic Bracelet
Sterling silver Amethyst Celtic bracelet set with genuine Amethyst 6mm x 4mm. This is classic Celtic design silverwork, the bracelet length is 7.5 inches.
£54.90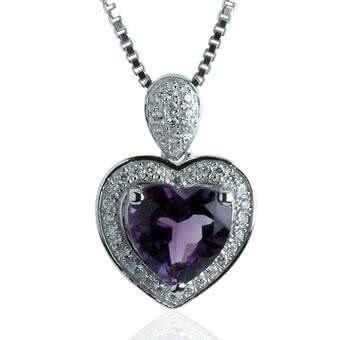 Amethyst Heart Pendant
Sterling silver heart shaped pendant set with a 1.50ct deep purple genuine amethyst. This pendant is complimented with 41 sparkling 1mm cubic zirconia stones, both the pendant and chain are bonded with rhodium for a highly reflective white gold look.
£29.90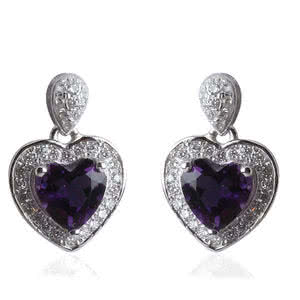 Amethyst Silver Heart Drop Earrings
Amethyst heart drop earrings, fine design with heart shaped cut amethysts. Each earring measures 6mm x 6mm Heart cut genuine amethyst (0.75 carat per earring) 31 x 1mm diameter cubic zirconia .Finished with Rhodium plating over the sterling silver weighing 2.10g with a 15mm drop.
£32.90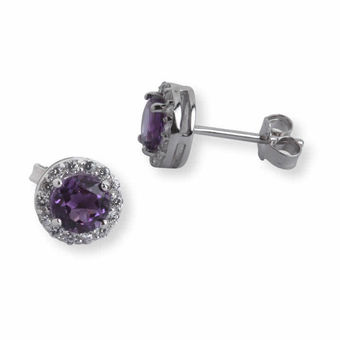 Amethyst and CZ Round Silver Stud Earrings
Sterling silver round Amethyst stud earrings set with 5mm genuine amethysts. Each earrings is complimented with 14 sparkling clear cubic zirconia gems measuring 1.25mm , the earrings measures 7.75mm in diameter, has butterfly backs for pierced ears and is finished with Rhodium for a white gold look.
£21.40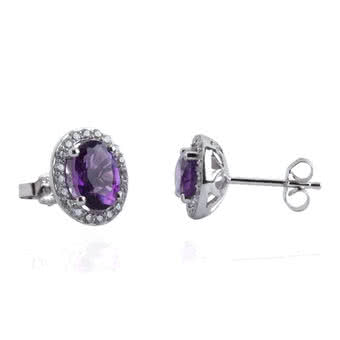 Oval Amethyst and CZ Silver Earrings
Sterling silver earrings set with 6mm x 8mm oval genuine Amethysts. Each earring is surrounded by 20 clear sparkling cubic zirconia gemstones measuring 1.25mm. These stunning earrings are finished with luxurious Rhodium for a white gold look, the overall size is 11.30mm x 9.80mm.
£34.90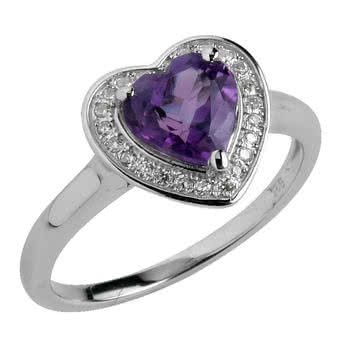 Amethyst Heart Silver Ring
Heart shaped Amethyst stone ring set with a genuine heart shaped amethyst measuring 7.10mm x 7.10mm, surrounded by sparkling small cubic zirconia gems. Rhodium plated for a luxurious platinum look.
£32.90

Multi Gemstone Flower Ring
Sterling silver flower design ring set with genuine garnet, sky blue topaz, amethyst, citrine and peridot. The center stone is cubic zirconia, this beautiful ring is finished with rhodium for a bright white gold look
£26.90