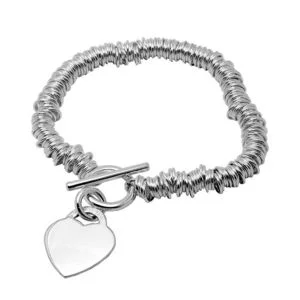 Sweetie Charm Bracelet with Heart Charm
Sweetie charm bracelet with silver heart pendant. This bracelet is made from hundreds of tiny silver rings which can be opened to add charms to the bracelet if desired. The quality of this bracelet is outstanding with a flawless highly polished finish.
£99.90
Out of stock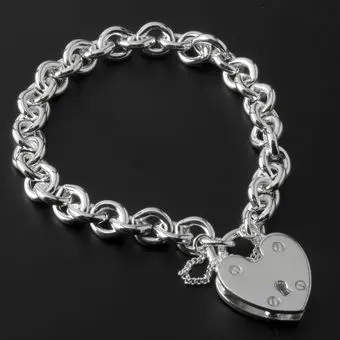 Large Padlock Charm Bracelet
Heavy weight solid silver charm bracelet with extra large padlock. The padlock opens and shuts securely and the bracelet has a safety chain attached. Available in 7.5 inch and 8.5 inch lengths.
from £149.00 to £169.00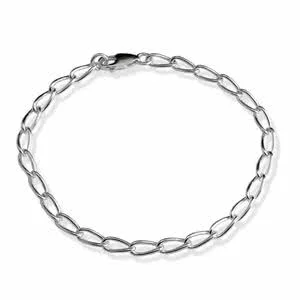 Oval Link Charm Bracelet
Silver oval charm bracelet, the long open oval links make it easy to add clip on charms or normal charms with jump rings. Available in 6.5 inch length - 4.10 grams (suitable for young girl), 7.5 inch legnth - 4.60 grams and 8.5 inch length - 5.20 grams.
from £14.90 to £19.90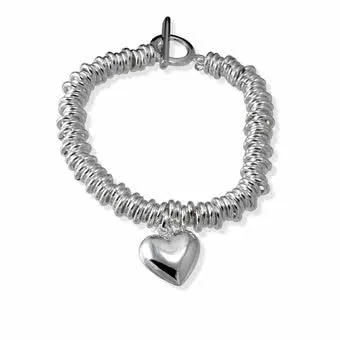 Heavyweight Sweetie T-Bar Heart Bracelet
Heavyweight gorgeous t-bar sweetie bracelet, this stunning bracelet weighs a heavy 57 grams - that is nearly two ounces of silver! T-bar fastening, 7.5 inch length (suitable for wrist sizes up to 7 inches) with 7.60mm diameter rings features a double sided hollow puffed heart.
from £149.00 to £164.00
Out of stock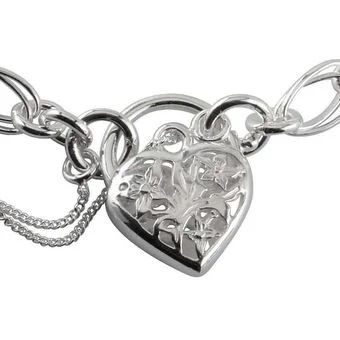 Double Link Silver Charm Bracelet
Flower design ornate padlock charm bracelet. The padlock features a cut out flower design. The bracelet is created from double oval entwined links and round links. This is a superb quality bracelet that looks great when worn as it is but also ideal for adding charms to, it weighs 14 grams, the padlock measures 22mm x 16mm.
£44.90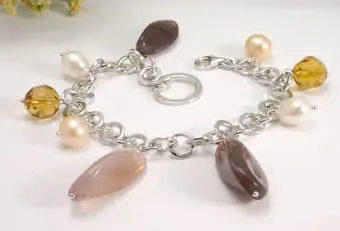 Pearl and Glass Bead Charm Bracelet
Freshwater pearl and glass bead charm bracelet finished with Rhodium to give a white gold look and durable high polished finish. Set with soft golden and white freshwater pearls and coloured glass charms.
£34.90
Out of stock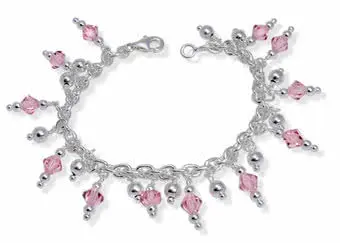 Pink Crystal and Silver Bead Charm Bracelet
Silver charm bracelet adorned with shimmering pink crystal and silver beads, weighs 19 grams and 7.5 inches in length.
£29.90