Special Offer Price from

£28.88
Loyalty Points : 56 / £1.12
---
Sterling silver dragonfly pendant
Set with multi colour Baltic Amber
Large 53mm x 36mm measurements
Sterling silver chain included
Weight: 5.8 grams
---
Matching Items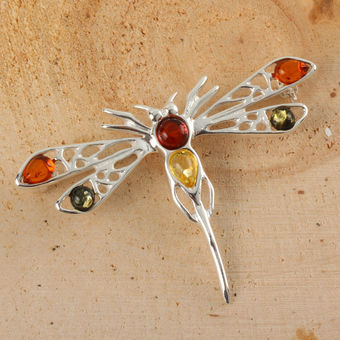 Large Baltic Amber Dragonfly Brooch
Large Baltic amber set dragonfly brooch, solid sterling silver, multicoloured amber featuring cognac, lemon, green and honey amber. This striking dragonfly brooch measures 53mm x 36mm and weighs 6.15 grams.
£32.90
These following categories contain similar items to this Large Dragonfly Amber Pendant.
We offer a diverse range of sterling silver pendants. Many are gem set with amber, cubic zirconia, genuine amethyst and pearl, rhodium plated and gold plated. We offer a vast selection of colours, designs, styles and shapes. Prices start from just £11.90, over 145 lines.
We offer one of the largest ranges of Baltic Amber jewellery on the internet. Stunning designs to suit all tastes. Outstanding quality with realistic pricing.
Discover our exciting collection of Baltic Amber pendants
Exquisite range of silver dragonfly jewellery set with genuine Baltic amber. Our collection consists of dragonfly earrings, pendants and brooches. Many of our designs are multicoloured amber, each piece is intricately framed by unique silversmith crafted sterling silver.
---
You might also like ...
Are you looking for a particular chain length? We now have the following pages listing all our lengths in the following sizes:
18 inch chain 20 inch chain 22 inch chain 24 inch chain 26 inch chain 28 inch chain 30 inch chain 32 inch chain
---
Our Best Selling Jewellery in the last month
You recently viewed

Large Dragonfly Amber Pendant
Amber set dragonfly pendant with silver chain. The dragonfly measures 53mm x 36mm and weighs 5.80 grams set with cognac, lemon, green and cherry genuine Baltic amber.
was £28.88
Sale Price £28.88