Engraving Available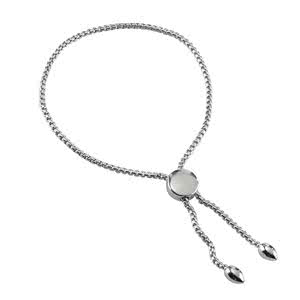 Sterling Silver Initial Bracelet - Slider Design
Personalised initial friendship bracelet, also known as a slide or slider bracelet. Beautiful designed bracelet which is rhodium plated, with two highly polished oval beads. One size fits all, simply pull the bracelet through the slider to fasten as close to the wrist as required.
£24.40

Pink Initial Slider Silver Bead Bracelet
Initial charm slider bead bracelet. Pink enamel round letter charm on a 4mm diameter bead slider bracelet. Simply move the slider bead up and down the box chain running through the beads to adjust to your required length, one size fits all.
£29.90