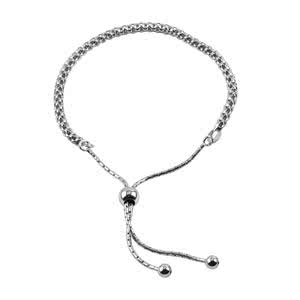 Sterling Silver Popcorn Slider Bracelet
Sterling silver popcorn slider bracelet, plated with Rhodium for a luxury tarnish free white gold look. Slider bracelets are adjustable, one size fits all, simply pull the bracelet up and down the slider bead to the required size. These bracelets are ideal for layering with other bracelets to create the latest fashionable look with jewellery.
£19.40

Sterling Silver Adjustable Popcorn Pendant Chain
This stunning pendant chain features a quality barrel shaped clasp with slider bead, simply pull the chain through the bead to adjust the chain to your desired length. The excess chain hangs down at the back of the neck. To add a little style to the chain they are fitted with a small heart at the dangly end!
from £14.40

Five Strand Singapore Rose Gold Plated Tassel Drop Earrings
18ct rose gold plated sterling silver tassel earrings. Five strand diamond cut singapore drop earrings. Just over 2.5 inch drop (65mm). Lots of movement, sparkle and shimmer with these beautiful earrings
£18.90