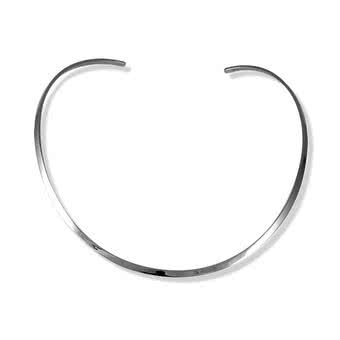 Solid Silver Torc Collar
If you suffer from dexterity problems a chain can be difficult to fasten, whereas a torc collar is simple to put on. Hold each end of the collar in each hand, gently pull apart to slip over neck. The collar is malleable so can be gently fashioned to suit your neck shape and size.
£32.90

Ladies Silver Cubic Zirconia Torque Bangle
Ladies Rhodium finished silver satin torque bangle. Highly polished ends set with a single sparkling cubic zirconia in each one. This designer look bangle weighs 15 grams (approximately half an ounce) and is suitable for wrist sizes up to 7 inches.
£29.90